Metrobus are a London based bus company who operate local bus services in Greater London, Surrey Kent East & West Sussex. Forming part of the Go Ahead Group, they comprise of approximately 1000 employees.
The design brief was quite structured in terms of colour and garment type. However we undertook a research programme to ensure we understood the wearer's roles and what each role entailed in terms of garment practicality and fit for purpose. This involved speaking to those that had to wear the uniform day in, day out, all the while gaining knowledge of the job and how the uniform needed to respond accordingly.
Simple issues such as the fastening of a ladies blouse would mean that modesty was compromised for female bus drivers as passengers boarded the bus or the opacity and serviceability of white shirts were highlighted as issues as well as comfort and temperature regulation problems.
As well as speaking to the wearers, understanding the culture & company ethos also formed part of the research programme. The company was undergoing a re-branding exercise to reflect a more modern image, which was in important consideration when undertaking a design project that needed to reflect brand identity and stand the test of time.
Moving away from the yellow & blue livery to a much more modern streamlined silver & blue was quite a radical step which involved new buses & upholstery throughout the fleet.
The research proved to be invaluable. The feed back received both from the wearers and the understanding of the re-branding exercise encouraged us to reconsider the brief that had been set which was quite a brave move in a tender situation.
To respond accordingly, our Concept Design Team proposed two options. The first of which answered the design brief directly in terms of colour and garment type…
The second option kept in mind the overall image requirements as briefed in the tender; however the design responded much more directly to the findings of the research programme…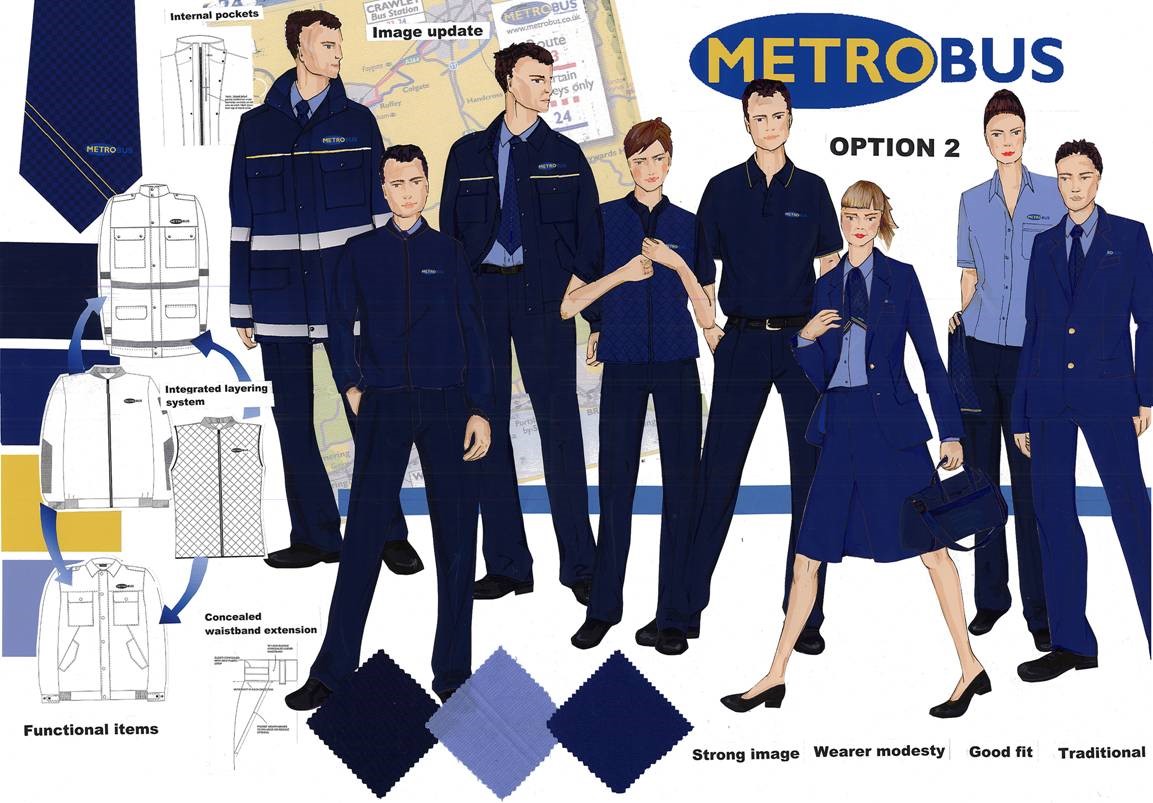 Updating the cut and style of the garments helped to modernise the image.
Fabrics were chosen for ease of movement, durability and comfort.
A layering system was introduced to respond to the need for temperature regulation.
Most radically the traditional white shirts were replaced with a much more serviceable cornflower blue that instantly looked less austere & offered strong Visual Identity.
Our approach to the design brief and the innovative solutions we suggested resulted in securing the first of many contracts for the Go Ahead Group.
view next case study...