It was late in 1912, when a young Ethel Lancaster started work at our brand new Empire Mills factory in Barnsley. A local girl, in the days long before the minimum working age, Ethel was just 12 years old at the time.
Though she proved to be a talented machinist throughout her time with us, that wasn't the reason she gained her fame.
For a time, Ethel, was the oldest living Briton. Her enduring distinction is that she was the last remaining person born in Queen Victoria's reign!
Her death, in 2015 at the grand old age of 114, proved to be the end of an era.
Born in 1900, just a year before Queen Victoria's death, Ethel Lancaster was one of six girls. Leaving school to begin work at our new shirt factory, Ethel would remain with us until she married William Lang. The pair would go on to have one daughter together, Margaret.
In her lifetime Ethel Lang, saw events such as the Titanic sinking, Two World Wars, the dropping of the atomic bomb, the assassination of Kennedy and the Moon landings.
Ethel lived through astonishing changes – 6 monarchs, 22 different prime ministers, the invention of the television, the computer, the internet, heart surgery, IVF, the mobile telephone and GM foods.
After the death of her husband in 1988, Ethel continued to live at the family home until 2005 when she moved into the Water Royd House nursing home in Barnsley. There she lived out her remaining years.
A massive fan of the snooker, Ethel would continue to listen to games on the TV despite her eye sight beginning to fail at the age of 85. Her favourite player was Jimmy White.
Ethel was very much in demand for interviews with the media as her age increased,
"On a Sunday evening we used to have friends come over. We would black everything out and get around the piano and have a sing-song." she recalled to the BBC on her 108th birthday.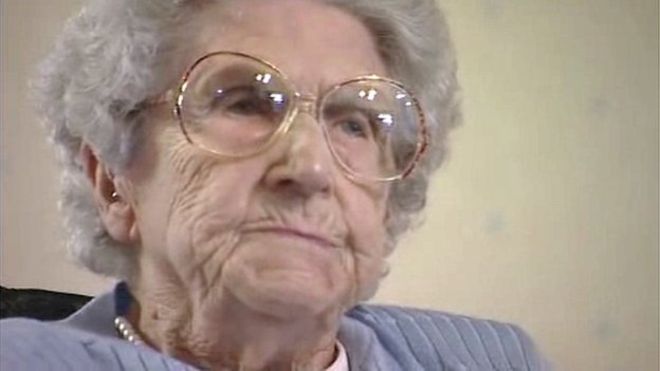 Longevity, is very much in the genes, with her own daughter Margaret currently 94 years of age!
No matter who surpasses that milestone of 114, Ethel Lang, will always remain our very own super-centenarian. And for everyone in Britain, The Last Victorian.
BACK TO ARCHIVE