In 2019, we celebrated our 150th year. As part of the celebrations we trawled the archives and explored the Sugdens journey. Scroll down this page to view our timeline and take a look back at our history – intermixed with historical events to give extra context to just how long we've been in business…
The Sugdens Archive
Click the links below to view some of the greatest finds in our archives!
1869: THE BEGINNING
It was 1869 when William Sugden married and set up as a tailor in Cleckheaton, West Yorkshire.
His four sons and daughter would eventually join him in the business, which over the next 25 years would grow to become a sizeable drapers shop.
The business gradually grew in popularity, gaining a high quality reputation as bespoke tailors and hatters.
Meanwhile, down in London, another great British institution was also born. The first Sainsbury's store opened in May of that year.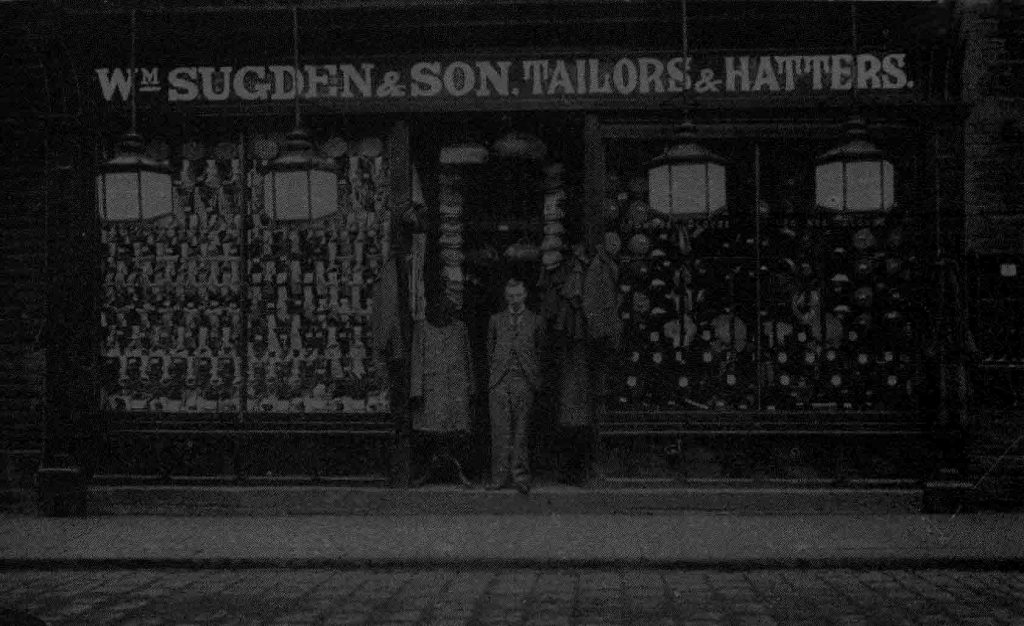 1876
Alexander Graham Bell made the first telephone call.
It would be some time before we got a national telephone network on which to communicate, but imagine the possibilities we had running through our minds at the time.
Perhaps one day we could take orders of our garments by telephone!
1879
Thomas Edison invented the electric light bulb.
Up until that point the world wasn't completely dark, the use of gas lamps and candle light got us through the first ten years of business, but this miraculous invention meant that one single electric powered light bulb could now give us 1,200 hours of continuous light (with a little tweaking over the next year or so anyway – the original lasted 14.5 hours!).
They were a few arguments over the patent and so on but eventually everyone who had been working on developing such an invention, on either side of the Atlantic, all joined forces and revolutionised every ones working lives – meaning that we'd soon have electric powered street lighting and lighting in the shop that would enable us to stay open longer and sell more!
1896: THE BIRTH OF OUR SHIRT-MAKING
William Sugden's two eldest sons, Allan and Bernard, began making shirts with a sewing machine in the back of one of our, by this time, two shops!
Both were located in our home town of Cleckheaton. One in the Old Market Place, selling all types of clothing and the other in Northgate that concentrated on our bespoke tailoring and gents outfitting.
Both are shown in all their glory below, in a wonderful little marketing tool we put together – a pocket sized album of local views!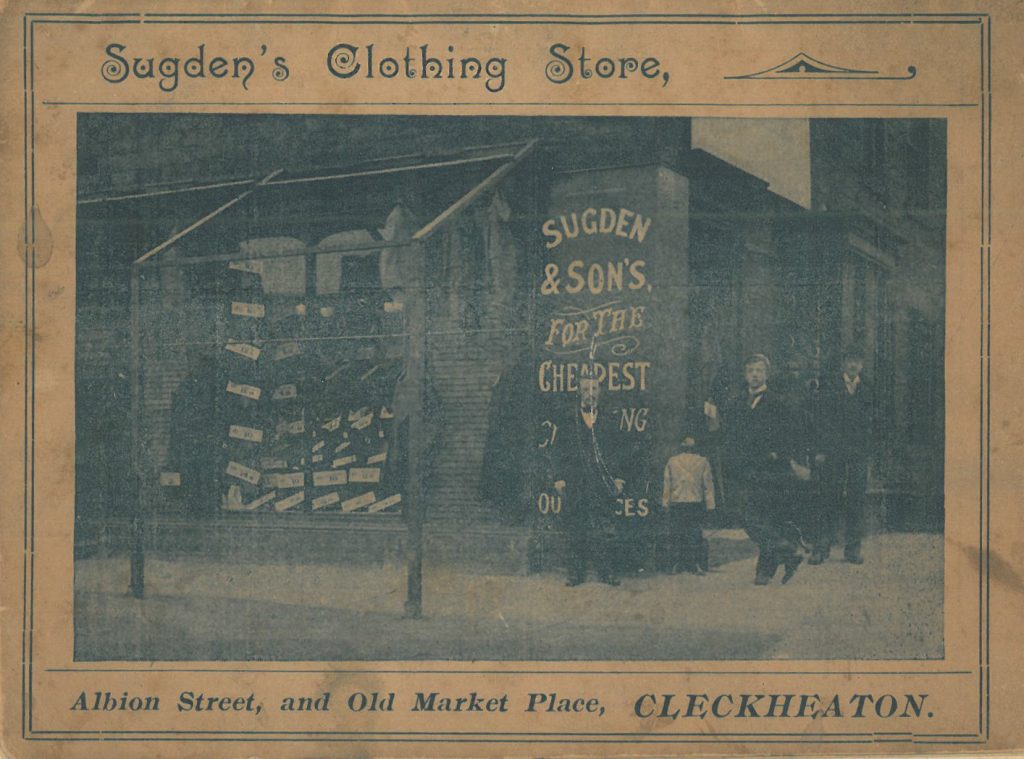 See our Album of Cleckheaton Views in full
Over in Lancashire, a seaside holiday destination was beginning to take shape as Blackpool Pleasure Beach Amusement Park opened. There was no such thing as a roller-coaster just yet, but it featured several gypsy stalls, a few roundabouts and a bicycle railway!
1899: FROM A SHOP TO OUR OWN FACTORY!
It was a significant moment when we realised that our shirt-making business had outgrown the back of our shop!
We moved in to a factory, just down the road at Water Lane Mills in Cleckheaton.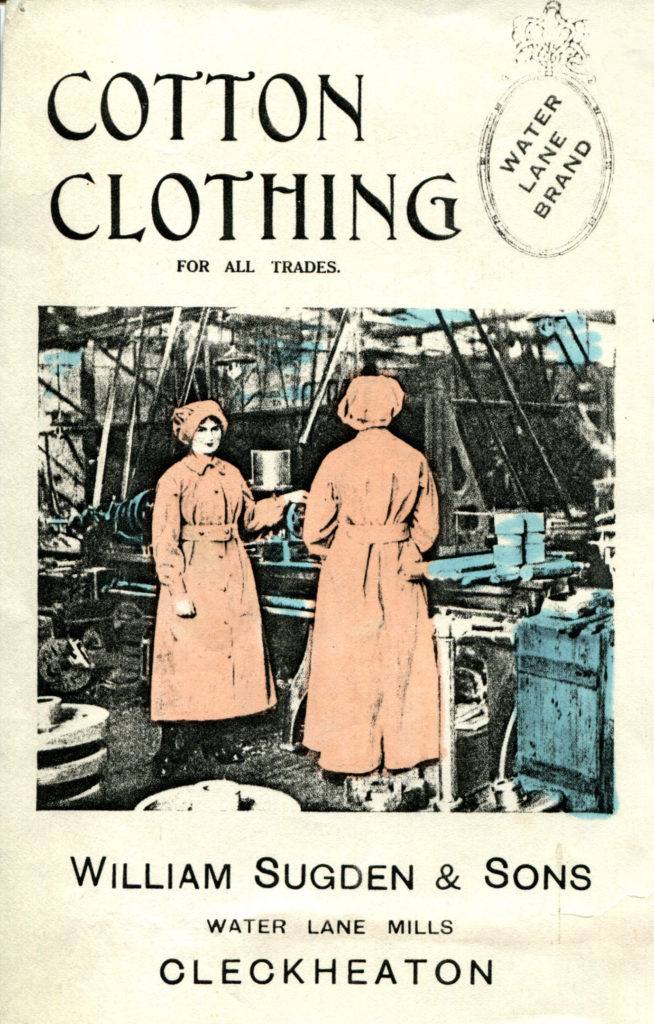 In this year, The Wakefield Oil Company was also formed. Nothing to do with the Yorkshire city where we would one day set up home, or the founders of our future sister company, but instead named after founder Charles C. Wakefield. This company would go on to market the brand 'Castrol'.
It was also the year we got our first taste of Liquorice Allsorts and also of Oxo Beef Stock Cubes!
1901
The death of Queen Victoria brought an end to the Victorian era. 
Her 63 years and 7 month reign was the longest reign of a monarch and we'd never known anyone different on the throne.
1908: FACTORY GROWTH
In the year that Henry Ford produced the world's first mass produced, affordable motor car, we moved our Barnsley operation to much larger premises at Shaw Lane Mills, on Racecommon Road.
1908 was also the year that London first hosted the Olympic Games.
1909
Selfridges Department Store opens in London and the first Woolworths store opens its doors, in Liverpool.
1911: HELLO WAKEFIELD!
Our first association with Wakefield began when we chose the city to open our third factory.
This factory would concentrate on the manufacture of workwear and army clothing.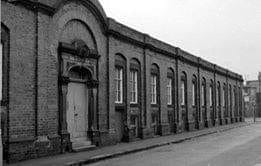 1912: EMPIRE MILLS
In the year the Titanic sank we were building a brand new factory in Barnsley.
Empire Mills was purpose built and plenty big enough for us, or so we thought. In future years we would go on to extend the Mills, not once but twice!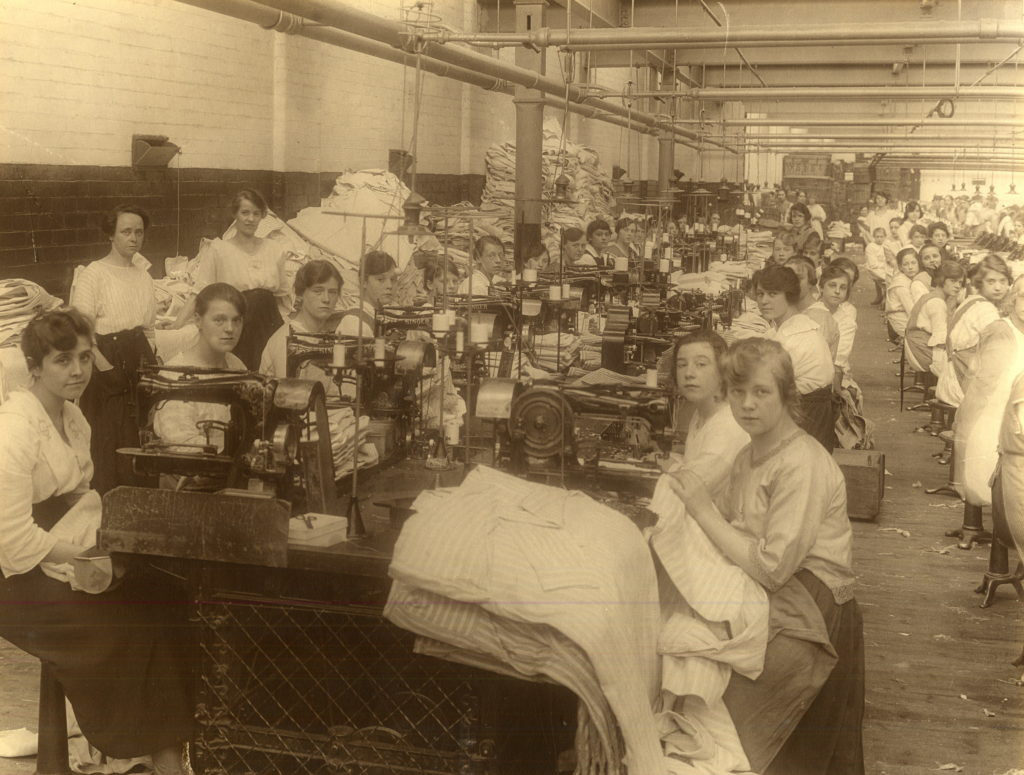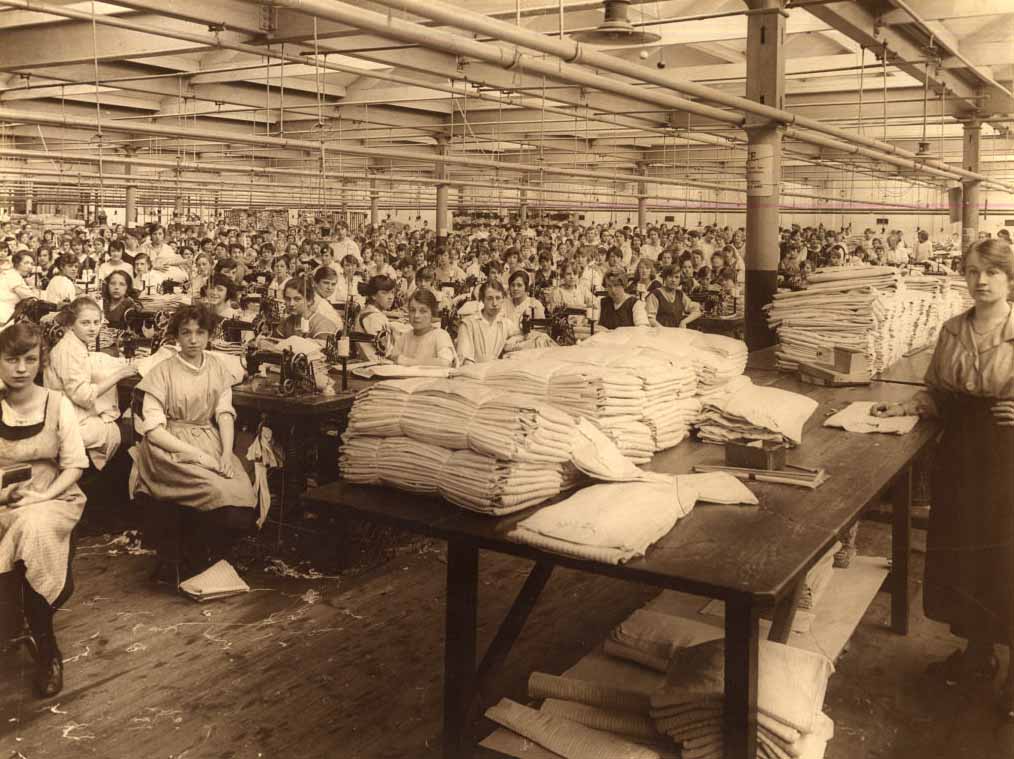 A young girl named Ethel Lancaster, aged 12, was one of many workers to start at the brand new factory in this year. But Ethel (Lang once she married), would go on to achieve the far greater distinction of being the last surviving child of Queen Victoria's reign, living until the age of 114!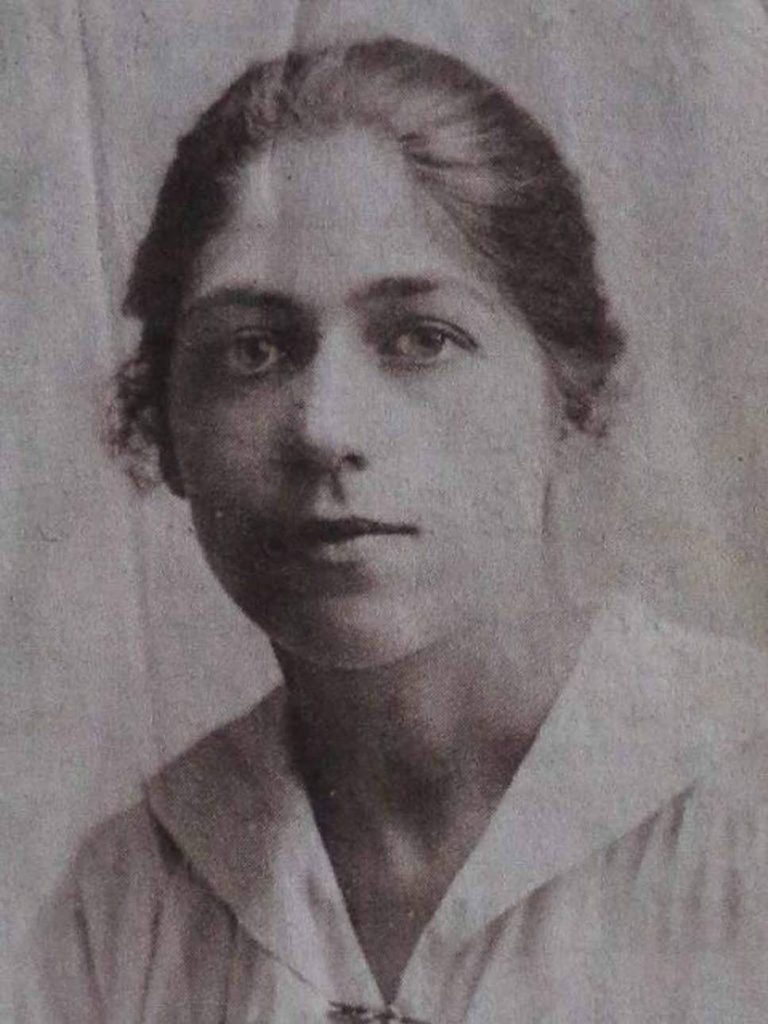 1914 – 18: THE GREAT WAR
At the outbreak of the first World War, we were kept busy providing clothing for those away fighting on the front line.
By the time the war ended, we had produced hundreds and thousands of shirts and uniform for the armed forces.
1919: THE WELFARE CLUB
To celebrate the end of the war, on February 8th 1919 we held a Tea, Concert and Victory Dance for all employees.
They'd all worked hard throughout the war, in times of great uncertainty having waved loved ones away to the front line, some never to return.
We all let our hair down and celebrated an end to those dark days.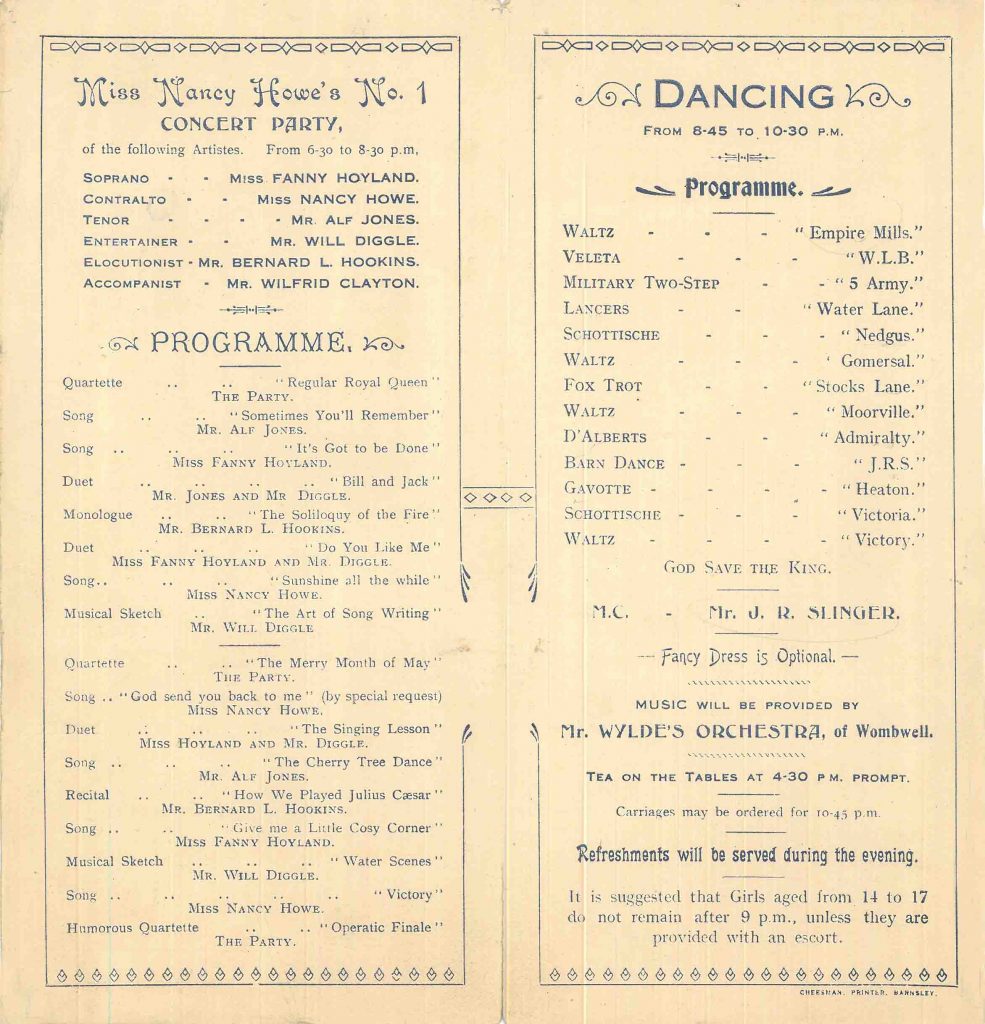 Read more about The Victory Dance
We also formed 'The Welfare Club' providing recreation activities and raising funds to help support our workforce and the public. These recreation activities included Footballl, Tennis, Dancing and Physical Culture, which had been tried out by our factory girls the previous year!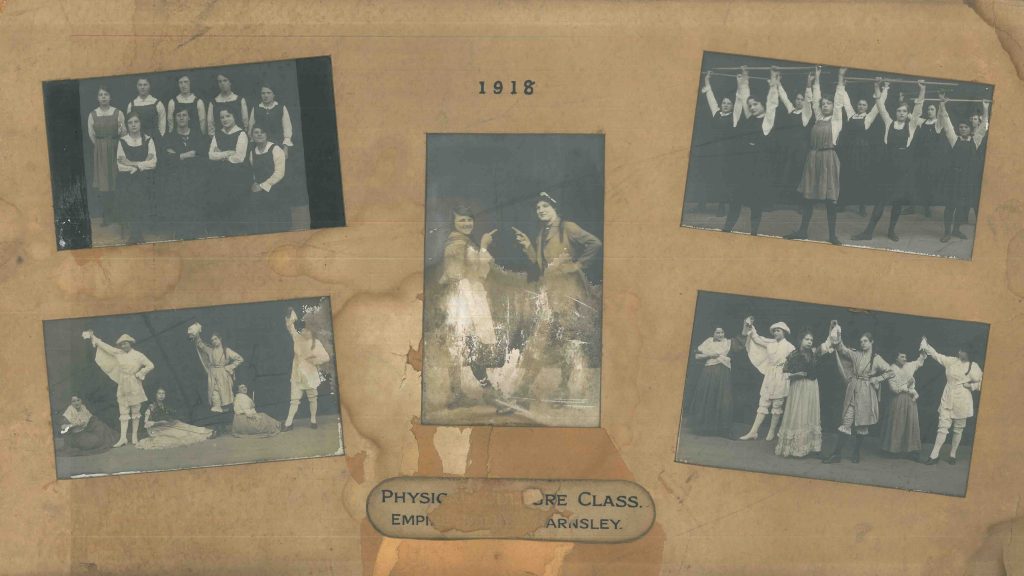 Along with the establishment of the Welfare Club, we also ensured that from this point on-wards any workers who fell ill and had to take a lengthy time away from work would be given financial help.
Any factory girls who were to be married would also receive a wedding present.
1924: WATER LANE BRAND
By this time, our range of products included shirts, pyjamas and all types of work clothing.
And we were paying homage to our first factory by selling them all under the name 'Water Lane Brand'.
Our customers at this time ranged from independent retailers to pawnbrokers!
Our first landmark in social activities also took place when over 1,000 of the firm's employees were taken to the British Empire Exhibition at Wembley.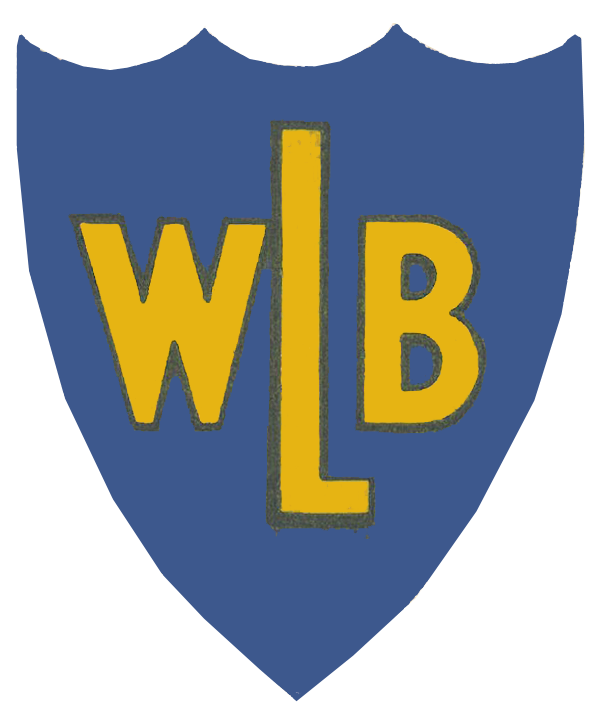 1939 – 1945: THE 2ND WORLD WAR
When WWII broke out, we set about supplying the armed forces with uniform once again.
It was a time of great hardship as many of our workers had family and partners away fighting on the frontline.
By the time the War ended in 1945, we had made over 5 million shirts and work suits for the armed forces including army issue gym wear  – This garment label, found in an online archive, has certainly stood the test of time!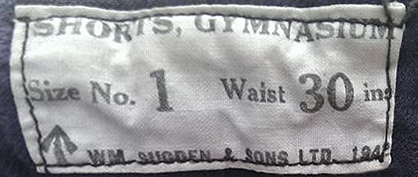 1947: THE WELFARE CLUB SPORTS DAY
Our Welfare and Social Club held a Sports Day on Saturday July 12th at Shaw Lane Cricket Ground, the home of Barnsley Cricket Club.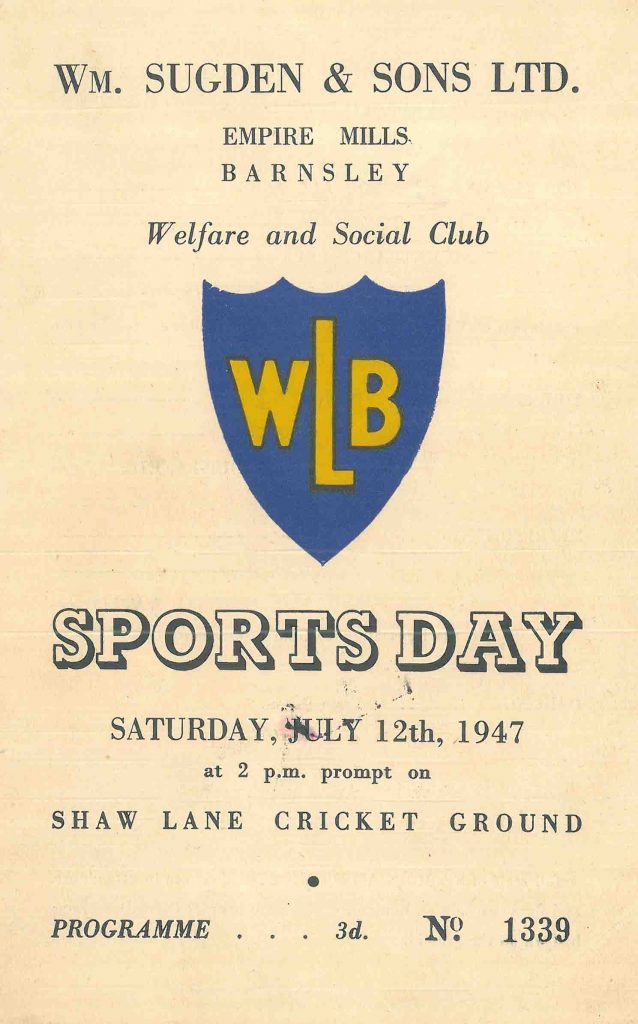 The programme promised sports and events for all ages, with Sugdens employees from all factories competing in events ranging from the Egg and Spoon Race, a Tug of War and a Fancy Dress Parade. There was also stalls and a Punch and Judy Show to keep visitors entertained. The first event of the day was a special football match with 'special prizes and special rules'! The event concluded with Dancing on the Green at 9 pm.
The program also made mention of the fact that to date since its inception in 1919, the Welfare Club had donated a total of £2,312 to Beckett's Hospital in annual donations.
The Wedding Gifts were still being presented to employee's too, with 1,250 gifts given since 1919!
1950's: WESTERN FILMS & THE JEANS CRAZE!
Western films were hugely popular at the time and we soon realised that jeans were destined to become a very popular form of clothing.
So we opened up a factory in Wath upon Dearne in South Yorkshire to produce jeans. The brand 'Jet Jeans' was born!

We were also regular exhibitors at the British Industries Fair throughout the 50's, as British Industry took centre stage!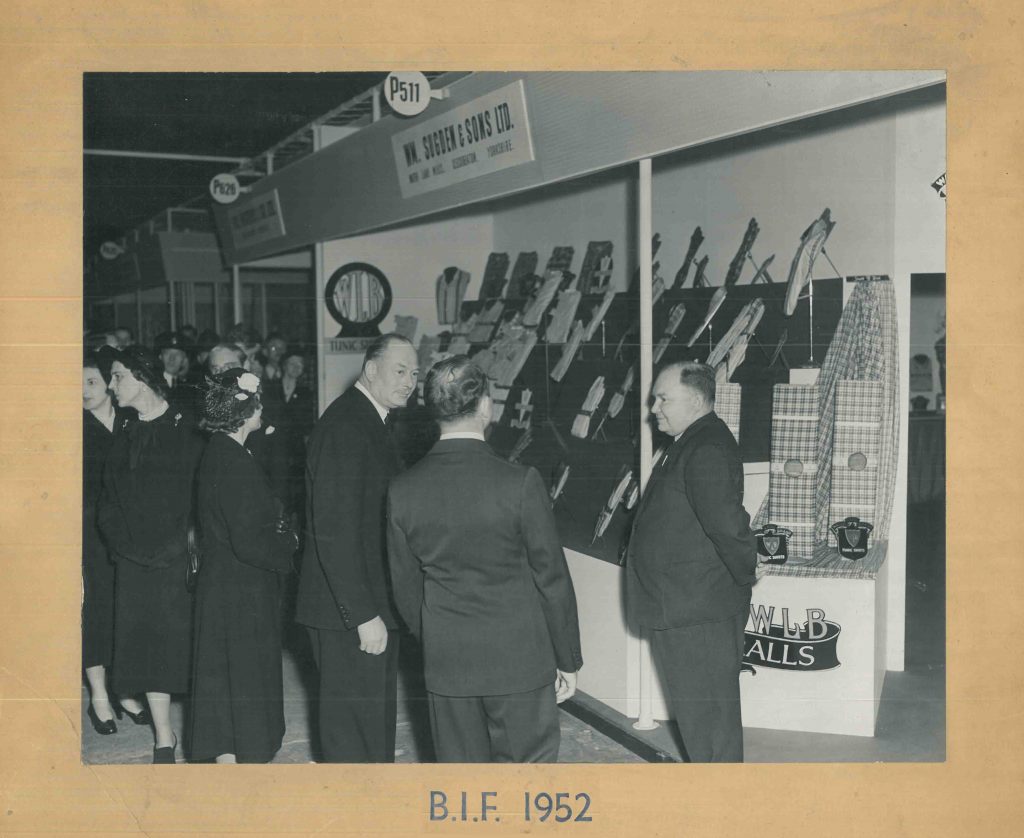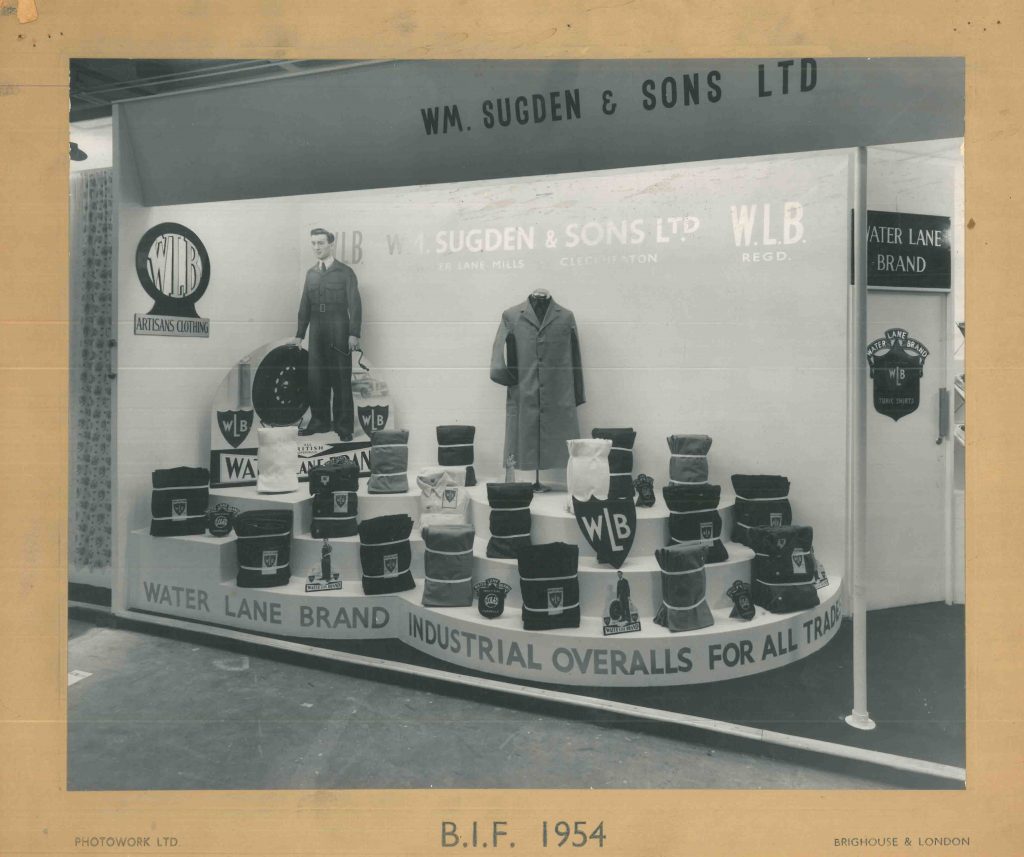 1953
By the time of Queen Elizabeth's coronation, we were fast approaching our 85th year!
This was the sixth monarch we'd seen during our time in business. We, like the rest of Britain celebrated.
We'd come through 2 World Wars and, though rationing was still in place and this was a time of austerity, British industry was very much being celebrated and the 50's were seen as an exciting time!
1955
ITV was founded! The rival TV Company to the BBC, brought commercial advertising to British television as a way of financing itself.
This opened up a whole new method of marketing that we just couldn't wait to try out!
In future years we would go on to advertise our Jet Jeans brand, not to mention the shirts produced with our future partner company Double Two. This sudden ability to market to a large captive national audience meant popularity of our Jet Jeans was set to grow.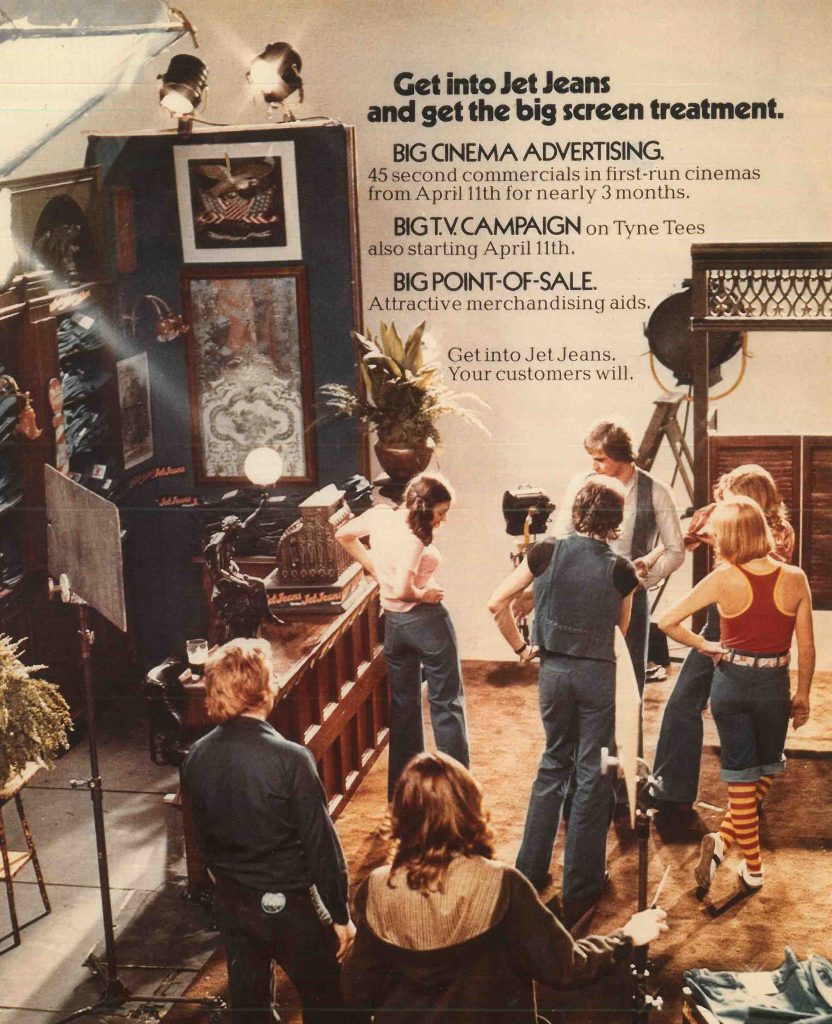 View popular Jet Jeans adverts that would make their way on TV screens in future years below:
1965: THE CLOSURE OF OUR WEAVING MILLS
The 1960's was a time of great change in the industry.
A wave of imports from cheap-labour countries made having our own weaving mills no longer viable. Instead we began to import the fabric we needed.
1966
England host the World Cup and go on to win it!
A feel good factor spread throughout the nation, the 60's were truly opening up a world of new possibilities!
1967: A NEW JEANS FACTORY
Despite closing our weaving mills, the popularity of our Jet Jeans meant we outgrew the original jeans factory in Wath and moved to a larger purpose built one.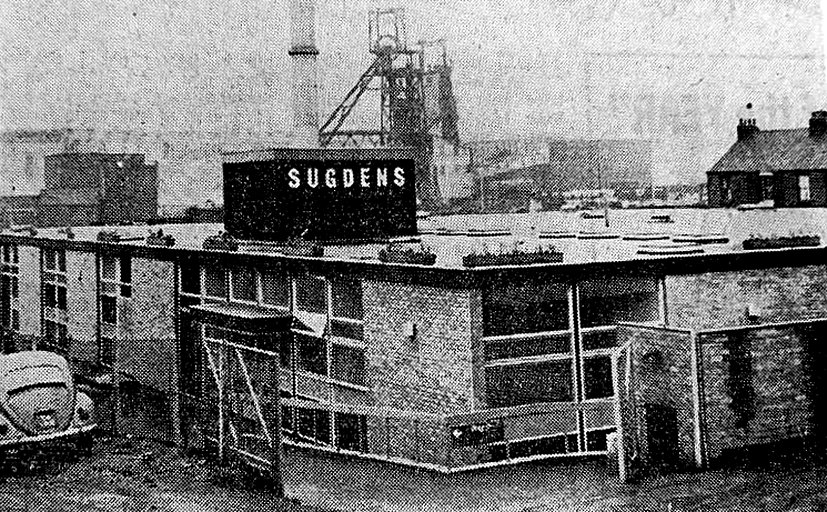 The company as a whole was losing money though and the Sugden family began to look at ways to bring in investment or sell the business.
1968: TEAMING UP WITH DOUBLE TWO
The Sugden family sold the firm to the Donner family, owners of another local business, Double Two.
Formed in 1940 Double Two were by this time a well-established shirt making company based in Wakefield. They had introduced the innovative patented spare collar, which enabled the shirt collar to be replaced on their garments without the need to replace the whole shirt. This was hugely popular in the days when men coming back from the war began to favour softer, collar-attached shirts that in those days soon wore out!
Double Two had also continued to innovate in the 1950's, working with Dr Rex Whinfield of ICI to devise the first polyester shirt, known as Terylene. And, in the early 60's they'd begun to blend polyester and cotton together producing the best of both fibres in their shirts.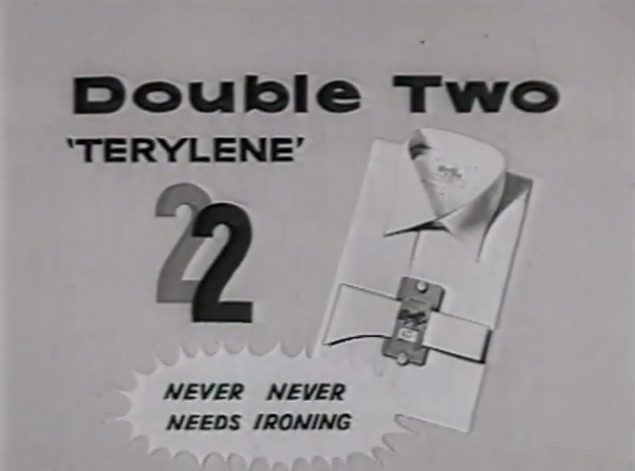 The Sugdens takeover was unique in business and much more of a merger than a takeover. The deal was agreed at 100mph from the back seat of an Aston Martin with a quick chat and a handshake between friends. No protracted negotiations and outside involvement!
The Sugdens brothers continued to work in and drive the business whilst benefitting from Double Two's innovation and knowledge of the latest clothing production methods.
By joining forces, the two businesses shared a shirt factory in Barnsley, a workwear factory in Wakefield, the Double Two Shirt factory also in Wakefield and a jeans factory in Wath, not to mention a wealth of knowledge and experience.
Meanwhile, Klopman Mills in the USA were pioneering polyester blended fabric that stood up to the rigours of industrial washing. One of the first moves under the new partnership was to bring Klopman to Europe.
Klopman International is now the biggest European workwear fabric maker.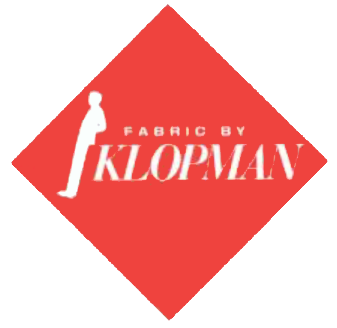 1969
In the year that Neil Armstrong set foot on the moon, we were taking great strides ourselves.
As we celebrated our 100th birthday and began introducing the Klopman poly/cotton blended fabric into our range, we joined the world in aiming for the stars!
1970's: EMERGENCY SERVICES
Combining Double Two's Shirt making technology into the range, we began to supply shirts to the UK Police Forces and Fire Services.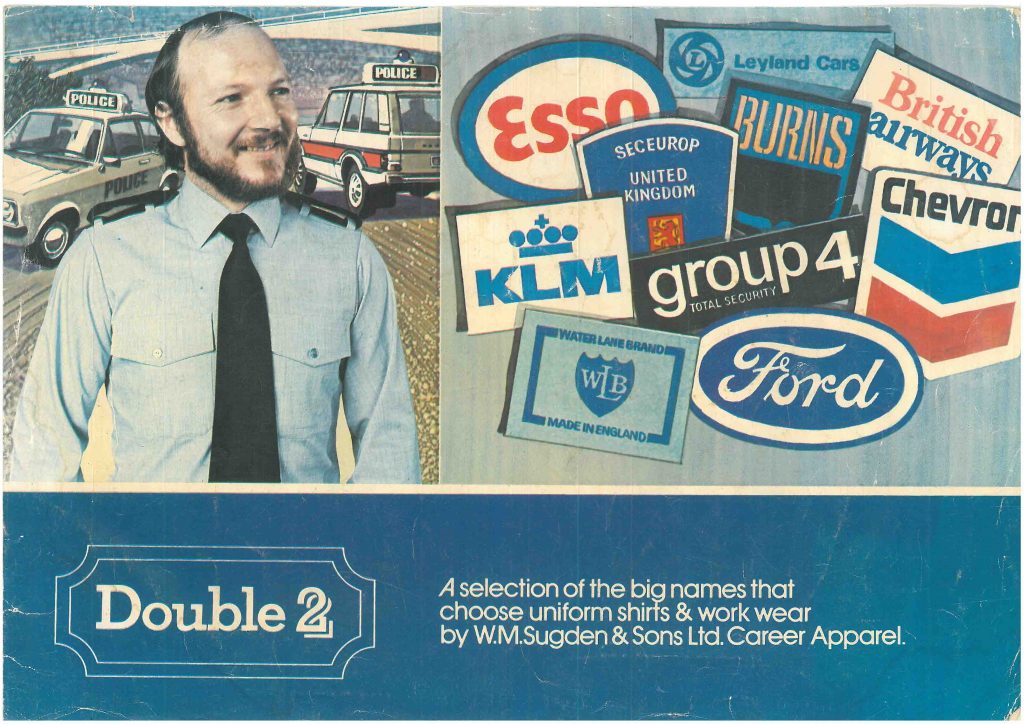 We also bought out L J & M Refson Limited. A women's workwear manufacturer based in Sunderland. This allowed us to expand our workwear production capacity.
1971
The year of decimalisation.
The shilling was no more and we all had to re-learn how to count and price our products!
1975
The age of the personal computer was just getting underway as Bill Gates and Paul Allen set up The Microsoft Corporation.
Their software is distributed in the first widely available personal computer, the Altair.
A year later Apple Computers would also be formed by Steve Jobs and Steve Wosniak.
1980's: TOPFLIGHT WORKWEAR
Following on from our contracts with the Police and Fire Services we began to supply the National Health Trusts, The Ministry of Defence and the Post Office.
Our Topflight Workwear brand was widely sold to laundries and distributors.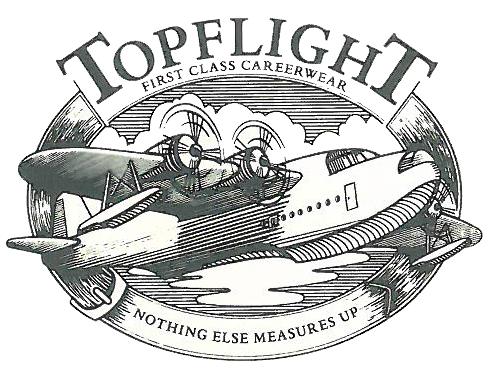 1989
In the year the Berlin Wall fell, as a company we enjoyed our greatest ever year!
At this time we were making over 3 million garments a year, in our own factories and we employed over 1,800 people.
The late 80's also saw our first overseas sourcing capacity.
1990: THREADNEEDLE
Our directors David Sugden and Richard Donner, set up Threadneedle Corporate Clothing Ltd after hitting upon the idea of offering a wide range of clothing products from stock.
This concept of a fully managed service for clothing enabled us to provide the UK's first fully managed uniform system.
As we were working on that, the internet was being developed, which ultimately would mean this fully managed service would really take off! Online order portals would soon come into play, the very first e-commerce shopping websites!
1992
Football – that game that had been a bit of a brutal, un-organised pass time in the years when we were formed – was about to launch the Premier League.
Football had evolved throughout the years to become the World's number one sport. With the advent of the FA's Premier League it was now about to become big business!
Meanwhile we were taking on competition of our own, eventually acquiring a local workwear supplier, Company Image Ltd. We added their range to our Threadneedle range to offer the full 'Threadneedle Company Image' to our Sugdens customers.
1994: NEW STANDARDS IN QUALITY
We became the first company in our industry to obtain ISO 9001.
This is an international standard that specifies requirements for a quality management system (QMS). The standard demonstrates that we adhere to processes and strive to consistently provide products and services that meet customer and regulatory requirements. A standard we still hold today.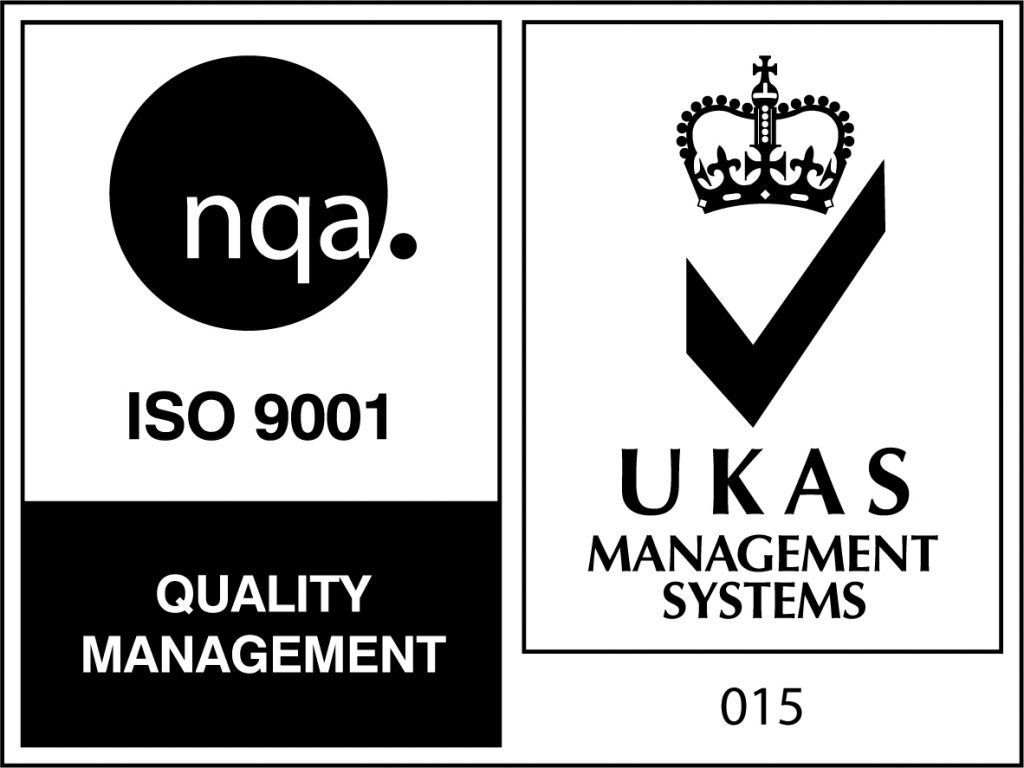 1995
Richard Donner's son John, joined the business. 
Despite initially pursuing an interest in Engineering, the lure of the family trade became too strong. John, the grandson of Double Two founder, Isaac Donner made it three generations of the Donner family working on the day to day management of the company.
He would assist the Sugden brothers, learning all about our workwear ranges.
1998
One of the last remaining Sugden brothers in the company, John Sugden retired.
It was also the year of the Good Friday Agreement, which brought peace between Northern Ireland and the Republic of Ireland.
2000
In the first year of the new millennium, the founder of our partners Double Two and one of our Directors, Isaac Donner, passed away.
2001
We watched in horror with the rest of the world when terrorists attacked the World Trade Centre in New York.
Closer to home it was also the year in which David Sugden retired, bringing the Sugden family involvement in the company to an end.
2002: AWARD WINNING UNIFORM DESIGN!
We were awarded the British Clothing Industry Association (BCIA) Award for Functional Workwear, for the uniform we designed for Oxfordshire Fire & Rescue Service.
2004: AWARD WINNERS AGAIN!
We received another BCIA Award, this time for most Practical Workwear for our design of the Bentley uniform.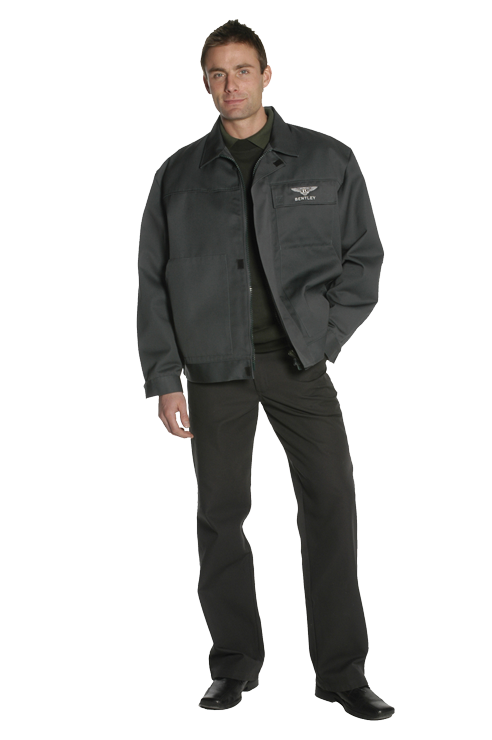 2006: THE PARADIGM SHIRT
Our sister company Double Two launched the Paradigm Shirt.
This was an innovative 100% cotton, non-iron shirt that went onto win an award for Innovation in Business the following year!
Of course, benefitting from our partnership with Double Two, the Paradigm shirt was soon featuring in our ranges of corporate uniform.
We also first entered into a relationship with St John Ambulance, a relationship that still endures today. The first aid charity approached us to design a new corporate uniform for their Trainers'. We introduced a navy uniform with a choice of lilac or green shirts and blouses with a tie or scarf and matching fleece and gilet.
2009: REACHING NEW HEIGHTS!
We received a BCIA award in Workwear for the corporate wear we devised for the Go Ahead Group, a public transport company.
The BCIA would later that year re-brand and become the UK Fashion and Textile Association (UKFTA).
A group of St John Ambulance volunteers took the company flag (ourselves and partners Double Two), up to the top of Mount Everest with them when they reached the summit as part of a fund raising event.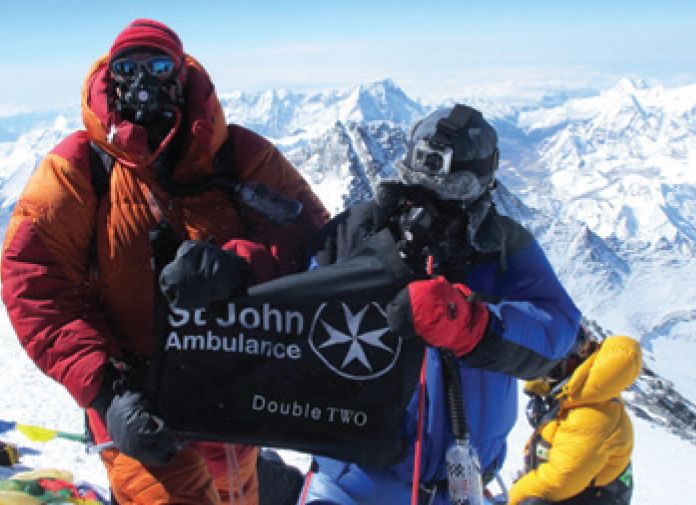 2012: A ROYAL VISITOR & A NEW LOOK FOR ST JOHN
In the year that the Olympic Games were held in London, we were visited by Princess Anne!
We also launched the new St John Ambulance Service Delivery Uniform.
This transformed the charity's dated image in which, when patrolling events in their black and white uniform, volunteers were often mistaken for Police. We swapped out the use of white for some green and designed a much more practical modern uniform to enable the St John Ambulance volunteers to carry out their duties in comfort and style.
The new uniform was such a hit, it scooped us the 'Best Bespoke Uniform Business for Workwear' Award at the Professional Clothing Awards.
2013: THE QUEENS AWARD
As a group, alongside our sister company Double Two, we were presented the Queens Award for Enterprise in International Trade.
Our Managing Directors, Richard and John Donner attended a ceremony at Buckingham Palace and were presented to her majesty Queen Elizabeth.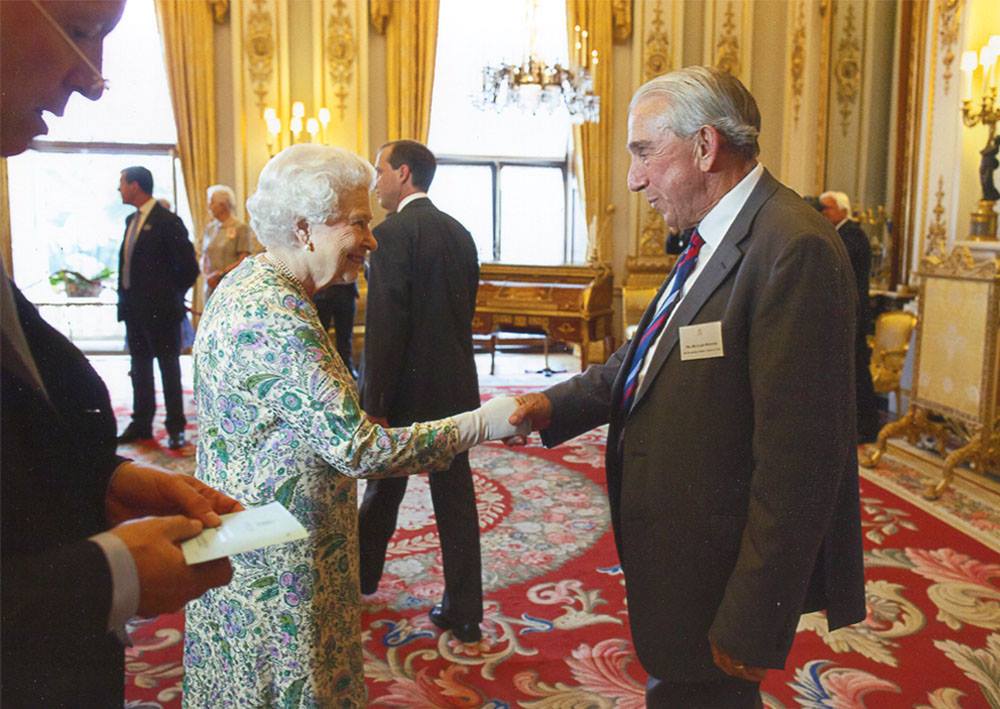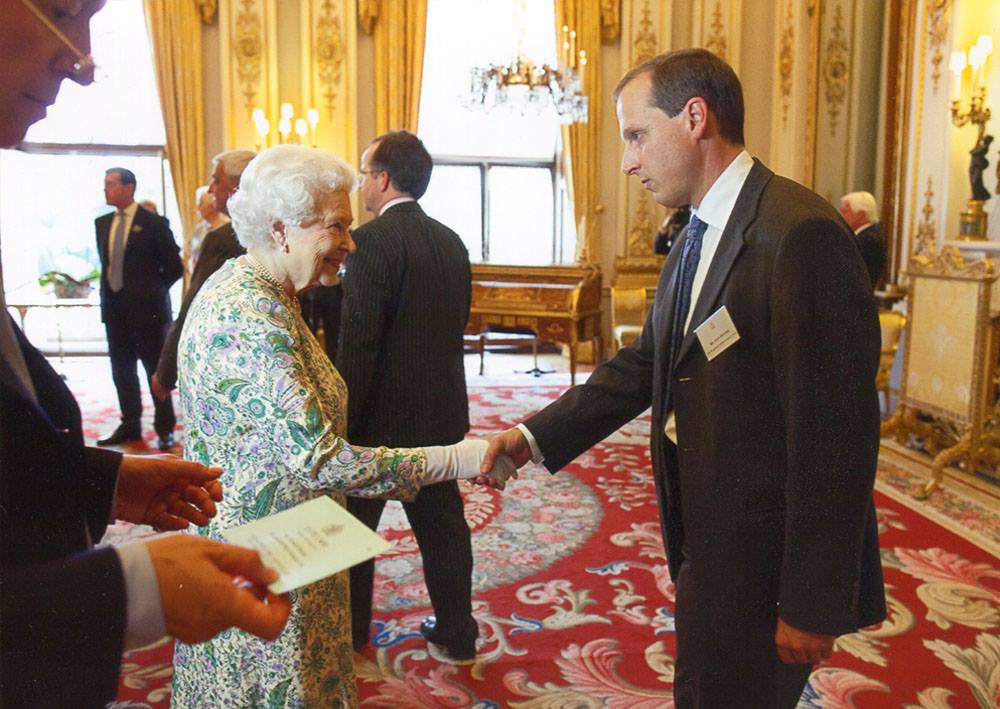 The Rana Plaza collapse in Bangladesh shook us to the core. Just six months prior to this we'd hired a structural engineer to oversee all our overseas factories. We'd seen some of the unsafe methods been used at other factories and could see an accident waiting to happen. We were committed to ensuring safe working practices were put in place at each of our factories, and we oversee that these practices are still followed to this day.
2014
The presentation of the Queens Award the previous year led to another Royal visit. This time from the Duke of Kent.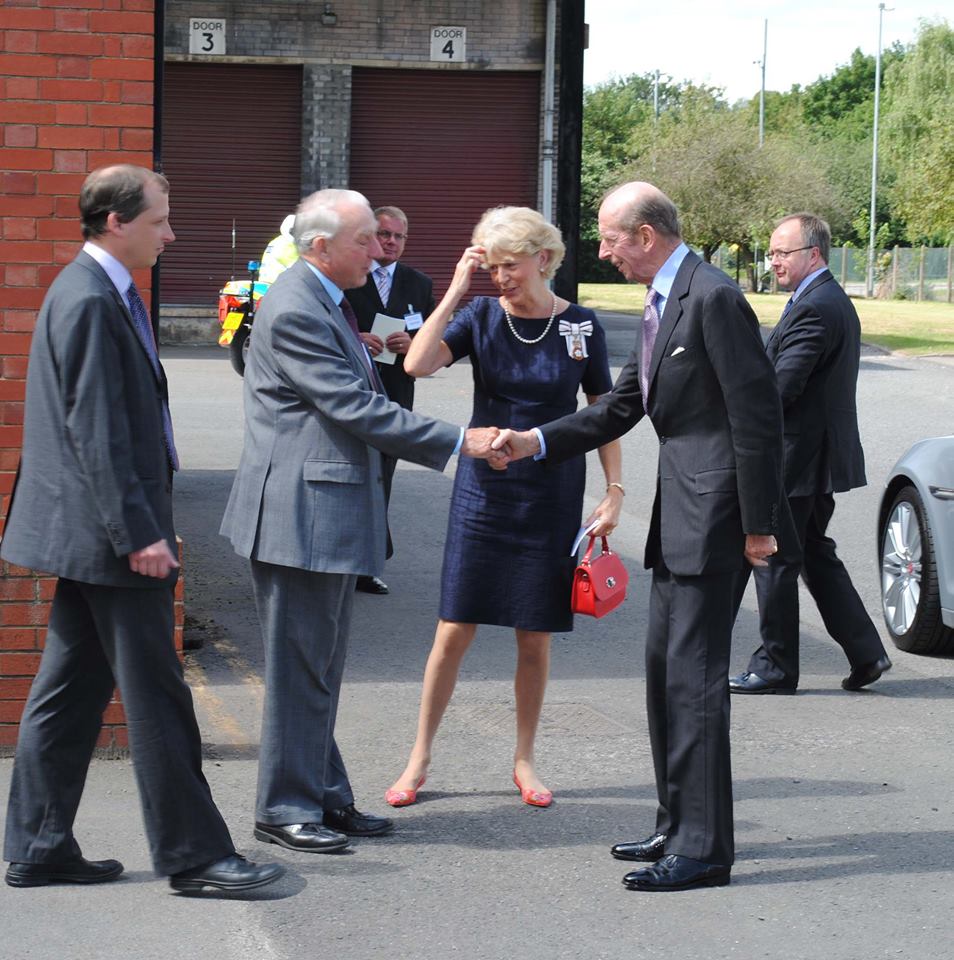 Our Director, Richard Donner was presented with the Long Service to the Industry Award at the Professional Clothing Awards.
His father had set up the Wakefield Shirt Company, makers of Double Two shirts, in 1940 after arriving in Britain as a refugee from Nazi occupied Austria. From unofficial involvement in the family business throughout his childhood, Richard Donner officially began his career in 1963, running the Double Two Factory before going on to conclude the deal to merge the Double Two and Sugdens empires in 1968.
From that moment on he'd be instrumental in both companies' successes.
2017: RE-BRANDING FOR THE FUTURE
Our Director, Richard Donner received the Lifetime Achievement Award at the Wakefield Business Awards.
We looked to the future by beginning a re-brand. We launched a new logo and new Corporate Clothing catalogue.
2018: A NEW WEBSITE
We launched our new website and added new products to our range.
It's now possible to browse everything we stock, ensuring customers can make an informed decision about their workwear options before speaking to us.
For the first time, our range includes Hi-Vis Workwear and Safety Footwear.
2019: OUR 150TH YEAR!
As we celebrated our 150th year, we began looking ahead to the next 150!
We are currently trying to clamp down on the use of plastic in our product packaging, something we're really committed to is eliminating plastic entirely in the coming years. We have also reduced our carbon dioxide emissions by 40 tonnes a year.
With production of our garments now taking place abroad, we're working hard to ensure a quality livelihood for all our workers and suppliers. 100 years since we formed 'The Welfare Club' the principles behind it ensure that we maintain an ecological and ethical approach that lies at the heart of how we do business.
All our factories are working towards or already have Gold Level WRAP Accreditation.
Our clients range from private schools, to laundries and distributors and organisations such as St John Ambulance and the Salvation Army. We're proud to serve every one of them and we look forward to the future!