You are on: Home > News & Insights > High Visibility Workwear – Ensure You Stand Out
High Visibility Workwear – Ensure You Stand Out
Published: 25.10.18
The first High Visibility Workwear was worn by British Railways track workers on the Pollokshields to Eglinton Street electrified rails in Glasgow. As a trial, they were handed fluorescent orange jackets known as 'fireflies'. With the faster speeds of electric rails, these jackets were deemed necessary and highly effective, making the wearer visible to train drivers from distances of up to half a mile in normal weather conditions.
After these successful first trials, high visibility jackets were soon issued to all railway workers and from there it became a logical step to introduce high visibility workwear to any profession where workers are near to moving vehicles or areas with poor visibility.
What is High Visibility Workwear?
High visibility workwear is any type of clothing worn that has highly reflective properties or a colour that is easily discernible from any background. Typically these are in fluorescent yellow or orange colours.
In many working environments, hi-vis garments are a vital part of PPE (Personal Protective Equipment) supplied by the employer
Being hit by a moving vehicle is the number one cause of fatalities in the workplace. With that in mind, it's essential that any high visibility clothing issued to employees meets all relevant performance criteria.
The safety standard that all hi-vis workwear should meet is EN ISO 20471:2013. This criteria is graded into three classes based on the visibility the garment provides.
For clothing manufacturers, like ourselves, these classes dictate strict guidelines on the minimum areas and design limitations of background and retro-reflective materials that can be worn.
CLASS 3: HIGHEST level of protection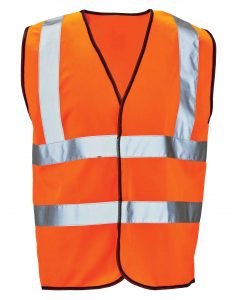 Minimum background material 0.80m2
Minimum retroreflective material 0.20m2
Horizontal reflective bank can have an incline of +/- 20°
CLASS 2: INTERMEDIATE level of protection
Minimum background material 0.50m2
Minimum retroreflective material 0.13m2
CLASS 1: LOWEST level of protection
Minimum background material 0.14m2
Minimum retroreflective material 0.10m2
For cases where high-visibility is an advantage, but for minimal risk/off road purposes only, unless worn as an ensemble with a Class 2 or Class 3 upper torso garment.
Whether you call it high visibility or hi-vis, the number of workwear options using this special reflective quality are extensive! Ranging from outdoor coats and jackets, to hi-vis waistcoats, t-shirts and over trousers, there are a range of options on the market.
Unsure what sort of Hi-Vis Workwear you require?
Take into account all lighting conditions at the workplace. As well as the effect of poor weather such as fog and snow. So, for some jobs a high visibility waistcoat may be all that is needed. Workers who are particularly at risk from moving vehicles, like maintenance workers, may need full body High Visibility clothing. This will make them as visible as possible to the driver.
Hi-Vis Workwear should provide protection both during the day and night, as well as in adverse weather. The darker the conditions, the greater the amount of Hi-Vis clothing required.
It should be suitable for the job and also the wearer.
Loose fitting workwear may get caught on moving machinery parts. High Visibility coats may be too warm in summer months, in which case, waistcoats or overalls with the appropriate Hi-Vis qualities could be supplied.
PPE should always be suitable for the work; if the way of working changes – check that the PPE is still suitable.
High Visibilty workwear should be comfortable and fit the wearer properly. Causing minimum restriction in the wearers' movement.
How can Sugdens help?
At Sugdens, we supply quality hi-vis workwear that not only meets the EN ISO 20471:2013 safety standard, but is comfortable and practical for the task required.
From warm, waterproof coats to high visibility t-shirts and over trousers, we supply hi-vis clothing to suit all weather conditions and all tasks!
Personalise your Hi-Vis.
We can have your company logo added to all high visibility clothing. We'll also add the wearers name or initials if you wish!